The Big Office and True Love Part One
I started watching 30 Rock in December 2007. I watched all of Season 1 in a weekend right before Christmas and caught up on Season 2 soon after that...and have been obsessed ever since.

I'd just like to state that I did NOT start watching with Jack and Liz in mind as a romantic ship. I wanted to watch the show because of the cast (I loved Tina and Tracy on SNL and liked Alec) and because I had heard how funny and great it was. I never imagined how great the chemistry Alec and Tina share on the show would be. In fact, the idea of Jack and Liz kissing on the show actually kinda weirds me out a bit. I'm not into them as a ship because they're "hot" together, but because their characters fit. In other words, they are M.F.E.O. = Made For Each Other. The show has made me think that.

"No, never gonna happen. They have great chemistry, I think, but in the writers' room we always talk about it as Lou Grant and Mary Tyler Moore, or Han Solo and Princess Leia. Lot of chemistry, never happened."

- Tina Fey in July 2007, on the possibility of a romance between Jack and Liz

Of course, the problem with that quote is Tina's apparent lack of Star Wars knowledge. I'll give her Lou Grant and Mary Richards never happening (however, the parallel of their working relationship is spot on), but Han and Leia? I guess Liz is the Star Wars brain of her personality because everyone knows that Han and Leia are THE romance of the Star Wars series (sorry Anakin and Padme', people care more about your daughter's romance than yours). Big nerds know that in the Star Wars Expanded Universe that follows the story post-Return of the Jedi, Han and Leia get married and have children. To say Han and Leia "never happened" is just flat out wrong.

In another interview, Tina said Jack/Liz is a mix of Mary Tyler Moore and Lou Grant and Han and Leia, which I find interesting because that's exactly it. It's a working relationship (Mary Richards/Lou Grant) that turns into a romantic relationship (Han/Leia).

Interviewer: That relationship that you have with Alec, on the show is great.
Tina Fey: Oh, thank you.
Interviewer: How would you describe what your characters' feelings for each other are?
Tina: Fey Well, we tried to define it. We said, you know, what is it? It's um...we've decided it's somewhere between, um, Mary Tyler Moore and Lou Grant and Han Solo and Princess Leia.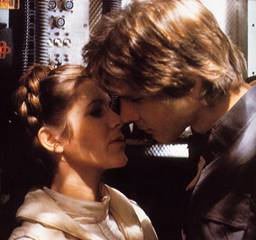 If you really wanted to hit down the idea that Jack and Liz were ever going to hook up, Han and Leia aren't exactly the couple you should use. In fact, they are the complete opposite. They're the "I love you. I know" couple.




Liz dressed up as Princess Leia four Halloweens in a row ("The Source Awards") and does it to get out of jury duty in "Believe in the Stars" and "The Funcooker".

Jack has similarities to Han. In "MILF Island", Jack says "I know" when Liz confesses to the "Class A Moron" and "he can eat my poo" comments much like Han says "I know" to Leia in "Empire Strikes Back" after Leia confesses to loving him. Tracy seems to describe Jack when he explains Han in "Succession" as "he acts like he doesn't care, but he does".

Jack is Liz's boss, much like Mary and Lou's relationship on The Mary Tyler Moore Show.

In a more recent interview at the 2008 Emmy Awards, Tina had a different take on Jack and Liz, one which seemed to indicate that she did recognize a spark of sexual tension with Jack and Liz...

Ryan Seacrest: It seems like there's sexual tension a little bit, and it's growing between Jack and Liz on 30 Rock.
Tina Fey: I think you're right, but I think we're gonna fight it forever, but it's definitely under there.
Ryan Seacrest: Walk right up to the line and not cross it?
Tina Fey: Right up to the line.

So, was Tina bluffing this whole time about Jack/Liz never going to happen or did she just warm up to the idea over the course of time? Not sure exactly, but Jack/Liz has been set up to become romantic since Season 1, so I have to believe she's always known something :)

Supercouples

Like being tied to supercouple Han/Leia in interviews, Jack/Liz have also been linked with supercouples within the show.

In "Do-Over", they are associated with Mr. Big/Carrie from Sex and the City as well as Luke/Laura from General Hospital.

The teaser shows Liz walking through New York City in a Carrie Bradshaw-looking attire and gets approached by a man in a limo (much like Mr. Big would do to Carrie), set to music sounding very similar to the music from Sex and the City. Just for fun, I'll also mention that Mr. Big's real name is revealed to be John, which is technically, Jack's first name.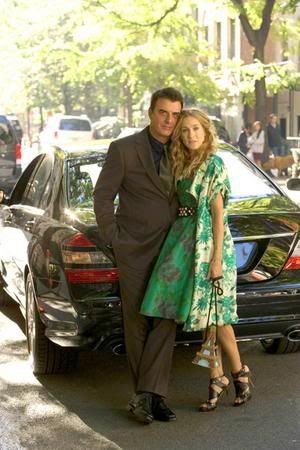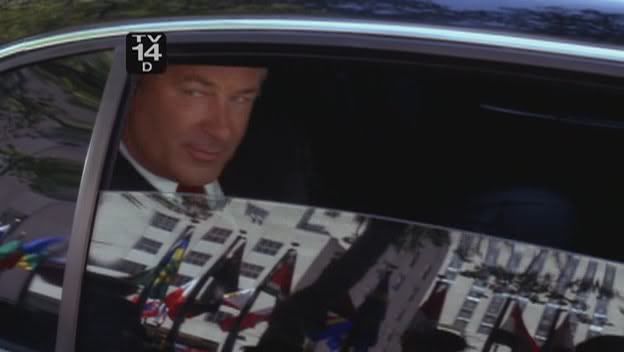 Liz mentions a "weather machine" during the fake soap opera she acts out with Jack. During the 1980s on General Hospital, Luke and Laura are involved in a plotline to stop a man from taking over the world with his weather machine. The reason I find it so interesting that Jack and Liz are associated with Luke and Laura is that the term "supercouple" was coined because of the intense interest in them.

Both Mr. Big/Carrie and Luke/Laura get married.




In "The One With the Cast of Night Court", Tracy helps Kenneth bring together Harry Anderson, Markie Post, and Charles Robinson (interestingly enough, looking like the trio of Alec, Tina, and Tracy) back together to reshoot the Night Court finale in order to have closure for the great love story between Harry and Christine, which originally, went "untold".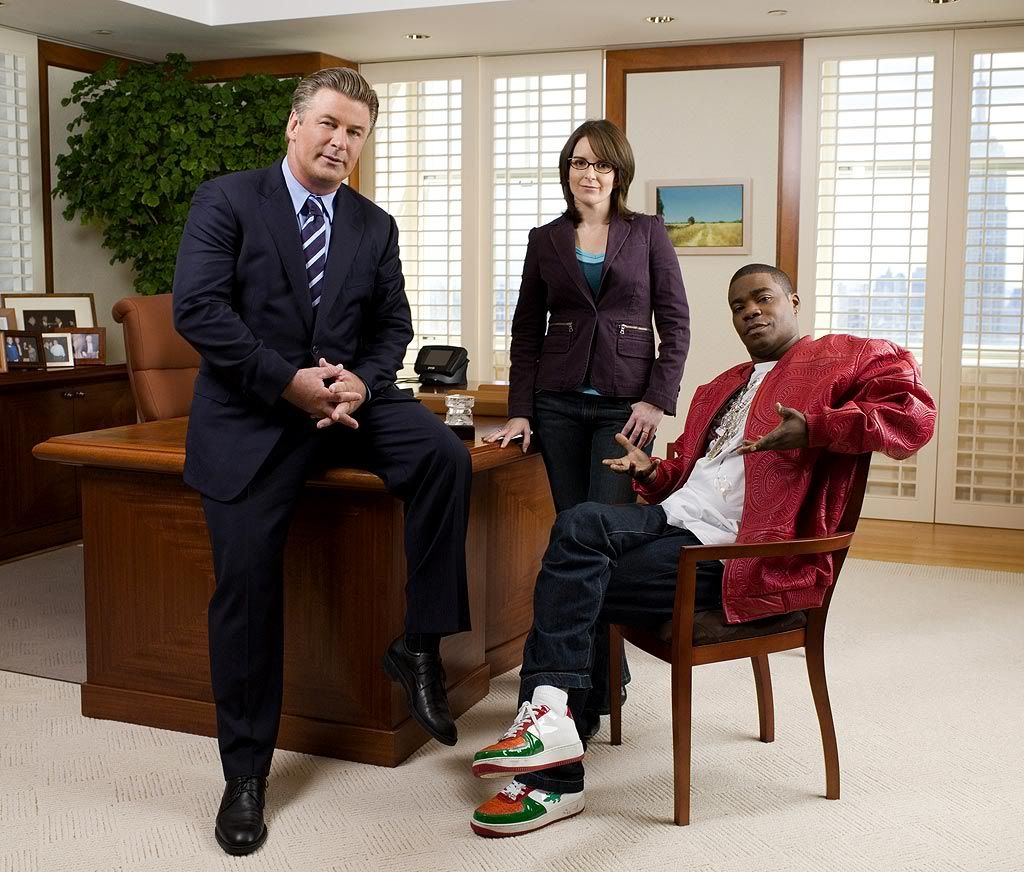 In Tracy and Kenneth's "masterpiece", Harry and Christine end up getting married, finally giving America what it wants.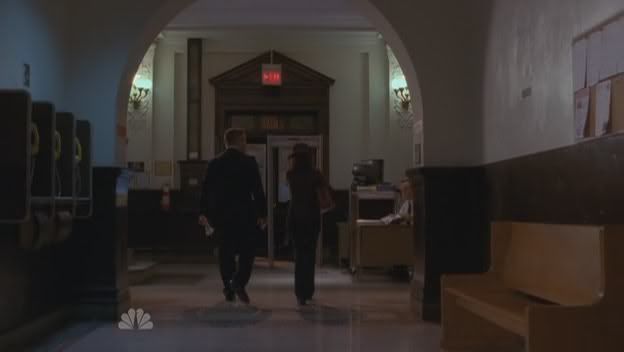 Jack and Liz are paralleled to Harry and Christine because at the end of the episode, we find them actually at Night Court. Liz goes to bail Jack out and they walk out together, ending in the 80's TV trademark fashion, complete with freeze-frame and Night Court theme music.

Because the episode seems to suggest that Jack/Liz = Harry/Christine, it seems to foreshadow marriage (more on that below) and reassure the audience that we will get a happy ending (and possibly, a Jack/Liz wedding) to 30 Rock.

Tracy talks about how he is going to play Mac in the upcoming Night Court movie and Mac is Harry's Best Man, which could be foreshadowing that Tracy will be the Best Man at Jack and Liz's wedding.

Jenna played Night Court character "Sparky Monroe", who is the Maid of Honor at Harry and Christine's wedding, which could be foreshadowing of Jenna being Liz's Maid of Honor at Jack and Liz's wedding.

Harry = Jack = Groom
Christine = Liz = Bride
Mac = Tracy = Best Man
Sparky Monroe = Jenna = Maid of Honor




In "The Problem Solvers", Liz poses a scenario to Jack regarding being Superman:

Liz: You can have the powers of Superman for an entire year, BUT, you can only have one sexual partner for the rest of your life.
Jack: Two questions: Must I live by Superman's moral code and will the sex woman get older?
Liz: Yes and yes.
Jack: Forget it. No deal.

Was Liz testing Jack on monogamy? Is the sex woman, Lois Lane, in this deal?

Jack has been connected to Superman in "Christmas Special" ("fly there without a plane") and "The Bubble" (he used to have a "Superman chest") and if that's the case, does that make Liz his Lois Lane? She is a writer with the double L initials and they are co-workers (well, Lois works with the Clark Kent persona) who, eventually, fall (or, at least, that's the way it's going with Jack/Liz) in love and get married.

Jack is portrayed as a superhero in some animated online episodes in which he turns the world around to go back in time like Superman does in Superman: The Movie.

The L.A. Times suggested that Jack and Liz were "Lucy and Ricky meet Oscar and Felix".

For Jack and Liz to be tied to these "supercouples" makes them a supercouple.

Fairytale Ball + Princess Analogies = Happy Ending

On the audio commentary for "Black Tie", Tina Fey makes a comment about how Jack/Liz is never going to happen, which is a little confusing because the episode very obviously connects Liz to Vivian from "Pretty Woman", making Jack her Edward as well as making her a Princess (through the Snow White/Cinderella debate with Jenna) and him her Prince Charming. It's worth noting that in "Do-Over", Liz says "please be charming" to Jack in hopes of impressing Bev, the adoption agent.

Funny thing about "Pretty Woman" is that in the very last scene, Edward gives Vivian a fairytale. He (as Prince Charming) comes on his horse (a.k.a. his limo, which just happens to be a white like a white horse), climbs the tower (a.k.a. her fire escape) with his sword (a.k.a. his umbrella), and reaches his princess (who Edward refers to as "Princess Vivian"). Even though "Pretty Woman" ends with the gayest line in the history of cinema ("she rescues him right back"), it does make things interesting for 30 Rock with Jack and Liz in the Edward and Vivian roles (tying them into another supercouple) because "Pretty Woman" has a fairytale happy ending.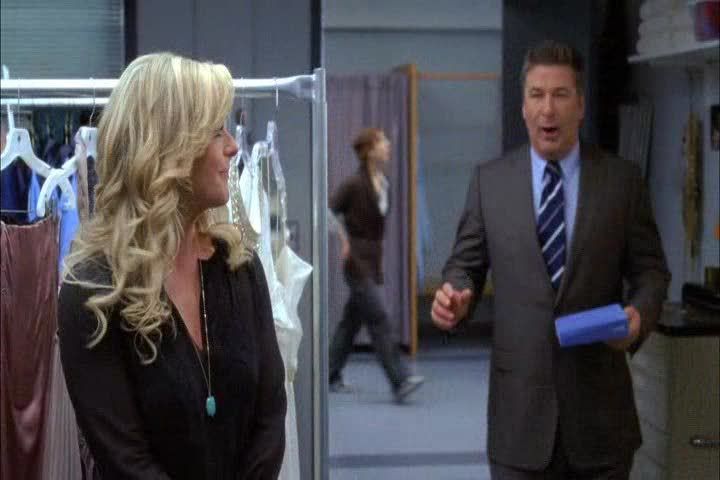 Liz is a Keeper: The Wedding Anvils.

"Black Tie":

Jack: This is my live-in girlfriend, Lemon.

Bianca: Congratulations, John. She's much sharper than the last girl you had. What was her name?
Jack: Beyonce'.
Liz: And, unlike the rest of Jack's girlfriends, I have all my original parts [points to her nose and breasts].
Bianca: Oh...hang on to this one, John. She's a keeper.
Liz: Mmm...yeah...I'm a keeper.

"Black Tie" is, essentially, Jack and Liz's first date (even though, Jack tries to play it off that it's not). He asks her out. She says yes. They both get dressed up, including her wearing jewelry he brings for her to wear. There is food (much to Liz's delight) and dancing. He walks her to her door. There's an almost kiss good-night.




While Jack and Liz are at the party, Jack goes into detail about all the women he has dated and Bianca even goes into the fact that Jack has had a lot of girlfriends, but who are mostly, super beautiful air-heads. The interesting thing to me is that Bianca singles out Liz as being an exception to the usual girl Jack dates. Liz is different. Liz is special.

And...Liz is a "keeper"? As in permanent? And, according to Bianca, Liz can "actually make him happy".

Bianca even takes it a few steps further, asking about marriage and speculating that they will have a baby, which just happen to be two parts of Liz's "having it all" goal.

Bianca: Are you going to marry Jack?
Liz: Uh, I don't know. We've talked about it.
Bianca: I can tell from the way he looks at you that you're serious. He's going to get you pregnant right away. I'm sure. A little late in life baby he can parade around Nantucket. The whole thing makes me want to vomit.

Jack and Liz play the roles of boyfriend/girlfriend in front of his ex-wife and in order to prove to him that Bianca doesn't like it, Liz puts on a fake engagement ring and tells CrazyBianca that Jack proposed to her. I don't think it needs to be said, but just for good measure, Jack and Liz pretending to be engaged could end up being chock full of foreshadowing, especially, since in Season 2, Liz actually buys a wedding dress.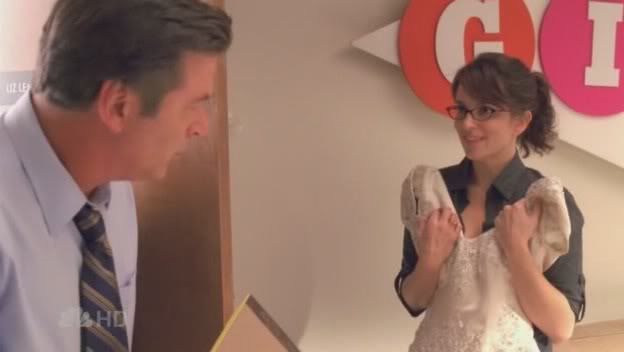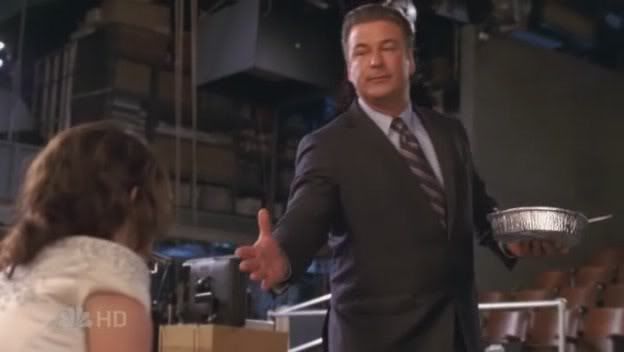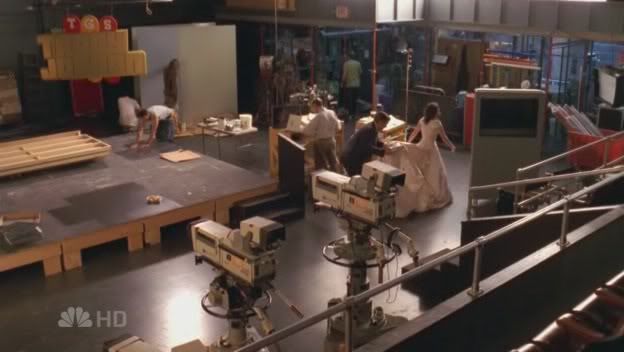 "Seinfeld Vision":

Liz [talking about wedding dress]: It really is nice, isn't it?
Wedding Dress Saleswoman: You should buy it and save it for your wedding.
Liz: No, no, I'm single. Doin' great.
Wedding Dress Saleswoman to Liz (in wedding dress): But, don't you think you will ever get married to anyone?
Liz: You are tryin' to make a sale. I know how this works.
[Jack calls Liz on the phone.]

Almost right after the woman asks Liz if she will ever get married to anyone, Jack calls Liz. He's the answer to that question about the man Liz will marry.

In "The Ones", Liz goes with Jack to pick out a ring for Elisa when the jeweler behind the counter mistakens Liz as the one who will receive the ring. Liz is once again (in addition to "Black Tie") associated with being Jack Donaghy's fiance', even to the point of wearing a ring.




By the end of the series, I suspect Liz will end up married and seeing as how Jack was her fake fiance' and is the one a season later who helps her up in the wedding dress and takes care of her train, I'm willing to bet he will be her real husband, which will allow her to "join Team Donaghy" as Jack suggests she do in "Retreat to Move Forward".

"Mrs. Donaghy":

Liz: Jack is not my boyfriend. He is dot dot dot my husband.

One could argue that the wedding anvils were paid off in "Mrs. Donaghy" with Jack and Liz accidentally getting married, making her Elizabeth Lemon-Donaghy.

Everyone sees it, but them.

Often in stories, there is a trope used wherein the main couple will be clueless of how perfect they are for each other, while others around them see it right away known as Everyone Can See It.

This kind of writing formula is why I'm still confused as to why Harry and Hermione didn't end up together in the Harry Potter series because Cho Chang, Viktor Krum, Rita Skeeter, Ron Weasley, and even Molly Weasley saw something between them and Harry and Hermione acted like it was no big thing. At least, Rowling admitted that the story could have ended with Harry and Hermione. It's good to know that tropes and writing formulas do hold up, even if the writer chooses a different ending. But, I digress...

There are TV Tropes that go along with this idea, wherein other characters suspect something is going on with a couple and the couple insists there isn't.

"She is not my Girlfriend"
"Just Friends"
"Will They Or Won't They?"

These tropes can result into a "Relationship Upgrade", which I think will happen with Jack and Liz in the last season of 30 Rock, maybe even down to the very last episode.

Bianca sees something between Jack and Liz. So much that it makes her Want-To-Sit-On-A-Knife-Jealous. Bianca even asks Liz if she is going to marry Jack.

Colleen thinks Liz is "the one" and "perfect" when she first meets her in "Hiatus".

Jenna interprets Jack asking Liz to go to the party in "Black Tie" as a date.

Heck, Kathy Geiss, Jack and Liz's "boss", who never speaks, enthusiastically, screamed "Kiss! Kiss! Kiss!" (the mute who becomes the voice of the audience/writers?), hoping Jack and Liz would do that very thing in "Do-Over", after witnessing the fake soap opera in her office.

Elisa, Jack's fiance' in Season 3 calls Jack and Liz's relationship "too weird not to be sexual".

Cerie, Liz's assistant, says (in "Secret Santa") that Jack and Liz remind her "of that bantering couple in that old movie...Meet the Parents".

Bianca, Jack's ex-WIFE sees it. Colleen, Jack's MOTHER can see it. Jenna, Liz's BFF can see it. Kathy Geiss, Jack and Liz's one-time BOSS can see it. Cerie, Liz's ASSISTANT can see it. Elisa, Jack's FIANCE' can see it. Now, it's just up to Jack and Liz to figure it out for themselves, which I suspect won't be until the last minute.

For the continuation of this essay, please go to Part Two.